Watch Video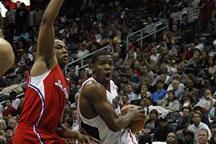 Play Video
The Atlanta Hawks awarded Zaza Pachulia for his community work ahead of their game against the Clippers.
L.A. was trying to hold on to the fourth seed in the West. Chris Paul abused Jeff Teague for a lay-up. The Clippers up by two. But the Hawks' Joe Johnson stepped up with a score over Caron Butler. Atlanta led by 6 midway through the third quarter. The Clippers turned to Blake Griffin later in the second half. His lay-up tied it at 70. The Clips also looking for the Pacific division crown.
But the Hawks denied the L-A charge in the fourth quarter. Ivan Johnson was strong inside. Atlanta led by double digits. The Clippers' final run featured Paul delivering to Griffin and back to Paul. L.A. drew within six. The pair connected again. Griffin would make it a 4-point game. He came through with a season-high, 36 points on the night.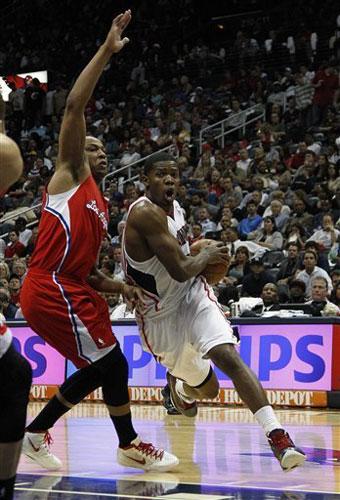 Atlanta Hawks guard Joe Johnson, right, drives against
Los Angeles Clippers forward Caron Butler (5) during
the first half of an NBA basketball game Tuesday,
April 24, 2012 in Atlanta.
But Atlanta was too tough. Johnson beats the shot clock with a must-have score. The Hawks win it 109-102. Johnson poured 28 points to knock-off the Clippers.
Other matches on Tuesday night. The Celtics topped the Heat: Miami rested most of its key players. The Thunder held off the Kings. The Warriors lost to the Hornets.
In the standings, the Bulls top the Eastern Conference with two games left for Chicago. The Heat remains in 2nd place, followed by the Pacers, 4 games back. The Celtics sit 4th, and the Hawks 5th, each with one game to go. The Magic stays 6th. The Knicks and the 76ers are both 14 games behind. The Bucks had quit from the playoff battle.
Out West, the Spurs secured the top spot on Monday. OKC trails by one-and-a-half games. The L.A. teams make up the rest of the top four. The Grizzlies are 5th. The Nuggets, Mavericks and the Jazz are still jockeying for their postseason starting spots. The Suns will miss the playoffs for the second straight year.
Editor:Bai Yang |Source: CNTV.CN