Watch Video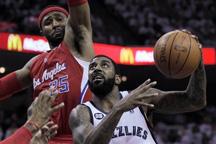 Play Video
The Memphis Grizzlies were looking to put an epic game one meltdown behind them as they tipped off against the L.A. Clippers on Wednesday.
The Grizzlies, blowing a 27-point lead in the series opener as the Clippers tied an NBA record for biggest comeback in playoff history and the Grizz, determined to make sure that didn't happen again in Game Two in Memphis.
Memphis Grizzlies' O.J. Mayo, right, goes to the basket under Los Angeles Clippers' Mo
Williams (25) during the second half of Game 2 in the first round of the NBA
basketball playoffs in Memphis, Tenn., Wednesday, May 2, 2012. The Memphis Grizzlies
defeated the Los Angeles Clippers 105-98. (AP Photo/Danny Johnston)
Caron Butler suffered a broken bone in his hand in game one, unavailable for the Clippers. Grizz come out running, and Rudy Gay beats the Clips down court.
It's a one point game early. Memphis would go into the half with a 4 point edge. But the Clippers would keep things close -- first Chris Paul finding DeAndre Jordan for the ridiculous alley-oop. Clips keeping it close.
Then Paul doing it himself, with the wicked fake and foray to the rim. 29 for the Clippers point guard. Memphis would still lead -- but the Clippers would be hanging around -- Blake Griffin hanging around the rim. He had 22.
Then Paul would hit from the land beyond and he's fouled. The 4-point play makes it a 4-point game. But the Grizz would not let this lead slip away. O.J. Mayo hits the triple in transition to extend the lead.
Then it's Zach Randolph getting the hoop and the harm. Memphis holds on for a 105-98 win and ties the series at a game apiece.
Editor:Zhang Dan |Source: CNTV.CN