Watch Video
Play Video
San Antonio Spurs head coach Greg Popovich, honoured as NBA coach of the year prior to his team's Game Two against the Utah Jazz.
San Antonio won game one and got off and running early, building a 13 point lead. But the Jazz would fight back -- and go on a 9-nothing run and they would trim the margin to just 5 points.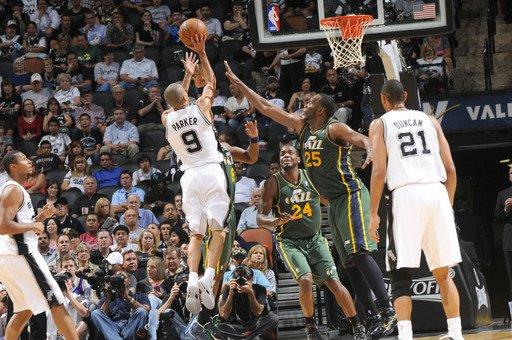 SAN ANTONIO, TX - MAY 2: Tony Parker #9 of the San Antonio Spurs goes to the basket
against Al Jefferson #25 of the Utah Jazz during the Game Two between the Utah Jazz
and the San Antonio Spurs of the Western Conference Quarterfinals during the 2012 NBA
Playoffs at the AT&T Center on May 2, 2012 in San Antonio, Texas
San Antonio would turn the tide and take a 25 point lead into the break -- Danny Green hitting from behind the arc. Second half and the Spurs continue to toy with the Jazz. Tony Parker getting into the lane and hitting he had 18 points and 9 assists.
Then check out the ridiculous lay-up from the Frenchman San Antonio had seven players hit double figures as they crush the Jazz 114-83 and take a 2-nothing series lead.
Editor:Zhang Dan |Source: CNTV.CN