Watch Video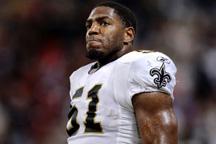 Play Video
NFL Commissioner Roger Goodell is continuing to hand down hefty punishment in the wake of the "Bountygate" scandal surrounding the New Orleans Saints.
The Saints, found to have offered money to players to intentionally injure opponents between 2009 and 2011, have already lost their head coach Sean Payton for the season and the Commish is coming down hard on four current or former members of the 09' Super Bowl champs.
Saints linebacker Jonathan Vilma is suspended for the entire 2012 season after offering
$10,000 in cash to any player who knocked Arizona quarterback Kurt Warner out of the 2009
Divisional playoff game.
The NFL was most strict with Saints defensive captain, linebacker Jonathan Vilma, who has been handed a season long suspension. According to the league, Vilma offered a 10, 000 dollar cash bonus to anyone who knocked out then Cardinals Quarterback Kurt Warner out of a playoff game in 2009.
Defensive linemen Anthony Hargrove, who is now a member of the Green Bay Packers, has been suspended for half of the upcoming season. Saints Defensive end Will Smith will miss the first four games of the year.
While linebacker Scott Fujita, now in Cleveland, will have to sit for three games. All the players stand to be suspended without pay with Vilma set to lose over 1.6 million in base salary. The NFL Players Union however, says they will be fighting this ruling.
Editor:Zhang Dan |Source: CNTV.CN