Watch Video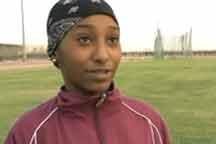 Play Video
17-year-old Qatari sprinter Noor Hussain al Maliki is set to become the first female Olympian for her country at the upcoming London Games. Qatar, till now, is one of three nations that has never selected women in their teams, the other two are Saudi Arabia and Brunei which are coming under increasing pressure to allow their women to compete.
Qatari sprinter Noor Hussain al Maliki knows that medals are well beyond her reach at London's Olympic Games later this year.
But regardless of the result, as soon as she walks onto the track at London's Olympic Stadium, she will be considered as a pioneer, a woman who broke down the barriers.
Noor Hussain al Maliki, Qatari 100m sprinter, said, "The first time I heard about it I was in Oman. The head of the athletics department came to see me and said, 'Noor you are going to the London Olympics'. I was shocked and felt happy. I phoned my mother to tell her to pray for me as I was going to London. I am happy because I will run with world champions. I am not going to win, but I will show that Qatar has talent and can produce girls that can reach international standards and be world champions."
The 17-year-old from Doha has been named in the Qatari Olympic team and shares the honour with swimmer Nada Arkaji, of becoming Qatar's first female Olympian, after 28 years of all male teams.
Al Maliki built her reputation by winning national and regional titles, and was recently voted "Best Female Athlete" by her fellow Qatari athletes for the 2010-2011 season.
Noor Hussain al Maliki, Qatari 100m sprinter, said, "I want to become a world champion, an Arab champion and give back what the sport has given me, help the youth so they can be even more successful than me."
Naima Ben Amara, Noor Hussain al Maliki's coach, said, "Of course the goal is to achieve an honourable performance, to honour Qatar. She will run against top class athletes and this is a very important experience and motivation to use for the future. To improve herself and achieve better results beyond the Gulf and Arab championships."
Meanwhile, al Maliki hopes to be a role model, with an estimated 70 women now actively taking part in athletics programmes in her country.
Editor:Zhang Dan |Source: CNTV.CN