Watch Video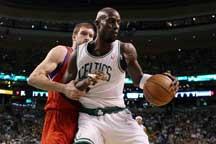 Play Video
Kevin Garnett,you're-in for a great game 1 between your Celtics and Philly. But the 76ers got off to a great start. Jrue Holiday finishes the fast break to give the Sixers the early lead.
It was supposed to be young Philly running down the older Celtics, but Paul Pierce...does-not-agree. He rejected Lou Williams.
The Sixers stuck to their game plan and continued to get out on the break. Andre Iguodala leading the charge. A spectacular behind the back move on the way to the hoop. 76ers up 3 at the break.
Second half and Philadelphia kept winning the sprint downcourt.Iguodala beat Boston's transition "D" and finished the night with 19 points.
The Celtics would start to get out on the break themselves. Avery Bradley cutting the margin to 3 in the fourth.
Philly is up 1,then Spencer Hawes takes advantage of a turnover. Hawes puts it into overdrive and extends the Sixers' lead.
But it couldn't last.Boston would go on a 23-7 run in the fourth and Rajon Rondo put the Celts on top. He had a triple double, 13 points, 12 boards and 17 assists.
The Celtic veterans closed it out. Rondo dishes to Garnett, who gets the hoop plus one, 29 and 14 for KG.
Then Paul Pierce hits his patented step-back jumper keep the momentum on Boston's side.The Celtics ran out the clock and stunned the 76ers in their game 1, 92-91.
Editor:Wang Xiaomei |Source: CNTV.CN