Watch Video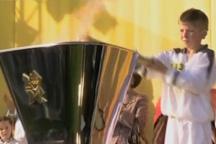 Play Video
The Olympic flame briefly blew out on Monday's leg of the London Olympic Torch Relay due to a "malfunctioning burner". The torch was attached to 23-year-old David Follett's wheelchair when it went out on its way from Exeter to Taunton in southwest England on day three of the 70-day relay.
Monday's 217 kilometre leg of the relay saw 113 people carry the Olympic torch between Exeter and Taunton. With each torch bearer running between 500 metres and a kilomtre, more than 350 security staff were also part of the nationwide operation.
Jonathan Edwards who won gold in the triple jump at the 2000 Olympics in Sydney was one of the sporting greats to carry the torch along with dozens of unsung and hard-working individuals who had been nominated by their local communities.
A surprise addition to the relay was Black Eyed Peas super star Will.i.am. The 37 year old ran and moonwalked through Taunton with the flame and admitted that it reminded him of watching the 1984 Los Angeles Games. On Tuesday the torch continues through Somerset before reaching Bristol. On Wednesday Queen Elizabeth's grand-daughter - Zara Phillips - is due to carry the torch into Cheltenham racecourse on her horse Toytown.
Editor:Wang Xiaomei |Source: CNTV.CN