Watch Video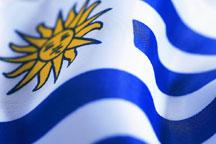 Play Video
Geographically, Uruguay is overshadowed in many ways by its huge South American neighbors, Brazil and Argentina. But the small nation continues to defy the odds and match it with the global leaders in football. With a population of just over three million, Uruguay has won two World Cups and fifteen South American championships. The country has qualified for July's Olympic Games where it's one of the favorites.
All over the Uruguayan capital, Montevideo, there are monuments to this little country's big success on the football pitch. They won Olympic gold in 1924 and 1928, the first ever World Cup on home soil in 1930 and then beat Brazil in one of the biggest upsets in football history, in Brazil in 1950. But we're not just talking about the black-and-white film and baggy shorts era.
The hard work, the tactical planning and the desire for glory go on. The future lies in these young legs, going through their paces at the national team's training ground just outside Montevideo.
Oscar Tabarez, Uruguay National Team Manager, said, "Now, we're trying to create a team with the same characteristics as in the good old days. We've got speed, organization, we try to work collectively and when you talk about the links - we're all born in this country, children of the same culture and of the same footballing culture. I'm not sure if you can say we're recreating but we're certainly returning towards being competitive."
Uruguay finished fourth in the last World Cup in South Africa in 2010 and is current champion of South America trophy they've won fifteen times - more than either of their local rivals, Brazil and Argentina.
England with a population of 49 million has only won the World Cup once. Spain with its passion for the game – once; Argentina, with Maradona and Messi, just twice. While most of the world's other soccer nations are still just dreaming.
Given its size and small population, Uruguay's achievements on the world football stage have been and continue to be truly impressive. But if there is a secret to their success they're keeping it to themselves. Maybe a small country needs a sport through which to assert its identity, to be heard in the world.
Dr. Mario Romero, Director, Uruguay's Football Museum, said, "For Uruguayans football is an integral part of their lives, of their character. Every Uruguayan throughout their life has one or many links with some aspect of football which is a constant for them, which has to do with their personal story. I believe that passion, that way of playing helps to develop from very early on. And although our population is very small, it's developed that a high percentage of them plays football."
These young players will represent Uruguay at the Olympic Games in London the first time they've qualified since the Sky Blues won gold in 1928. The hopes and expectations of a nation rest on their shoulders - with continued success on the world football stage perhaps more important here than almost anywhere else.
Related stories
Editor:Bai Yang |Source: CNTV.CN