Watch Video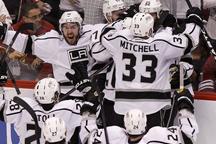 Play Video
This weekend, Britain's Queen Elizabeth celebrated her diamond jubilee, and across the ocean in North America another royal achievement is close to taking shape. Hockey's Kings -- from Los Angeles, find themselves on the brink of winning their first ever Stanley Cup.
They hold a two-nothing series edge on the New Jersey Devils, and a win in Game three would put them just a single win away from capturing the Lord Stanley mug.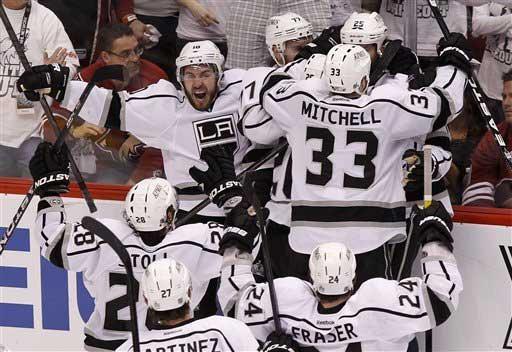 Los Angeles Kings' Mike Richards (10) shouts in celebration as teammates Jeff Carter
(77), Willie Mitchell (33), Jarret Stoll (28), Alec Martinez (27), and Colin Fraser
(24) converge on Dustin Penner (25), who scored the game-winner against the Phoenix
Coyotes in overtime during Game 5 of the NHL hockey Stanley Cup Western Conference
finals Tuesday, May 22, 2012, in Glendale, Ariz. The Kings defeated the Coyotes 4-3,
and advance to the Stanley Cup Finals.
The most famous hockey King of all -- Wayne Gretzky is part of the ceremonial faceoff.
Scoreless in the second period, and the Kings on the attack. Martin Brodeur makes a couple of saves on Dwight King before, Alex Martinez jams one into the net. New Jersey has to do a better job of clearing the net. 1-buzz Kings.
Later in the period, L.A. on the atack and a nice pass from Justin Williams drops it to Dustin Brown, who finds a streaking Anze Kopitar who doubles the lead.
Off to the third and L.A. up by 3, with a man advantage -- Justin Williams finds some room on his off-wing and scores off his own rebound to make it 4-nothing. Johnathon Quick made 22 saves for L.A, his third shutout of the post season and the Kings are now a game away from winning the Stanley Cup.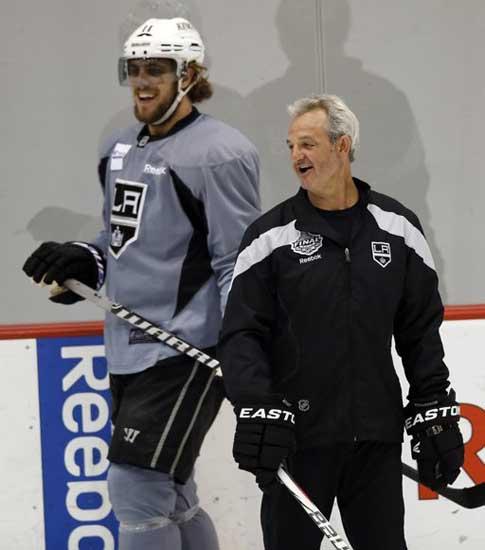 Los Angeles Kings head coach Darryl Sutter (R) laughs with Anze Kopitar during a
team practice before Game 2 of the NHL Stanley Cup Final between the Kings and
the New Jersey Devils in Newark, New Jersey, June 1, 2012. Game 2 of the Stanley
Cup Final will be played June 2 in Newark.
Editor:Zhang Rui |Source: CNTV.CN