Watch Video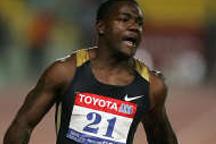 Play Video
After serving out a four-year-ban for doping, American sprinter Justin Gatlin is ready to make his Olympic return in London as booked his ticket to the Games at the U.S. Trials this week. The former Olympic and world champion says he has turned the page on that chapter of his life and is now preparing for what could be an 'epic' 100-meter showdown between American and Jamaican sprinters in London.
The 2004 gold medalist in Athens spent four years on the sidelines and had a world record time from 2006 annulled when he failed a 2005 drug test. He returned to competition in 2010 and won the U.S. 100-meter final over the weekend with a new personal best of 9.80 seconds. Gatlin will be joined by Tyson Gay as the leading U.S. contenders as they get set to challenge the Jamaican squad led by world record holder Usain Bolt.
Gatlin says the trials he faced during his suspension made him a better person and stronger competitor.
Gatlin said, "To be honest with you, I've turned the page but it's a part of the book. I've gotten blessings, like I said before, I was able to turn in to a man and understand what it is to not know where income comes from, getting unemployment checks. Things like that. Things that have humbled me in my lifestyle, even if you think that my character was a very humble person before in '04 and '05, going through the struggle I went through, not only humbled me in lifestyle but it also strengthened me as a person. I think that I can never close that door on the past four years and say I'm never going to look back at it because that's where a lot of my strength has come from and a lot of my bravery."
Related stories
Editor:Zhang Rui |Source: CNTV.CN