Watch Video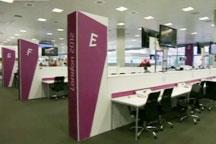 Play Video
The Main Press Centre for the 2012 London Games opened at the Olympic Park in Stratford. Olympic officials announced a series of innovative steps aimed at making the Games experience more entertaining and informative for spectators.
Olympic fans can enjoy personalised earpiece commentary, videos explaining competition rules, and some surprise musical performaces at some of the venues. The official song of the Games also made its debut. It's called "Survival" by rock group Muse. London 2012 director of sport Debbie Jevans promised that the music, the information videos and the other forms of entertainment won't distract spectators from the sporting excitement.
Debbie Jevans, L.O.C.O.G Director of Sport says, "When you have a tennis match, there will be silence when the athlete serves, we're not certainly going to play Muse when the athletes throw the ball up to serve or something. So, the whole way through we've absolutely ensured the integrity or, if you like, the tradition of that sport is maintained.
This will book-end it and enhance it. We're not going to turn tennis into beach volleyball or gymnastics into basketball - the sport's integrity is maintained, we've just enhanced the way that we're going to showcase it."
Paul Deighton, L.O.C.O.G chief executive says, "So if you're watching, take the gymnastics, and there are a whole set of things going on in front of you, different athletes on different pieces of equipment, that your in-ear commentary can explain to you, if you look over there at the parallel bars and that particular athlete, you know she's currently in second place, this is what she needs to do to take the lead' - that's a very helpful piece of information, so you think, 'wow, I'm now really focussed on that and I'm excited'. So that's what I mean by enhancing the sport rather than distracting you from it."
Related stories
Editor:Wang Xiaomei |Source: CNTV.CN