Watch Video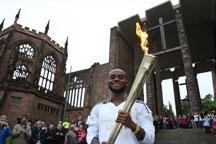 Play Video
The Torch Relay of the London Olympics had a little bit of excitement on Monday as the flame travelled from Birmingham to Covertry on day 44 of the trek across Great Britain.
On the same day that 12-year-old Dominic Macgowan, the youngest torchbearer of the relay, carried the flame through Birmingham in Coventry, another two young boys were making headlines for a different reason. The mischievous youngsters managed to avoid security and attempted to grab the torch, before they were ushered away by police. A total of 8-thousand people will carry the flame during its 8-thousand mile, 70-day journey to the opening ceremony of the Olympic Games in London on July 27th.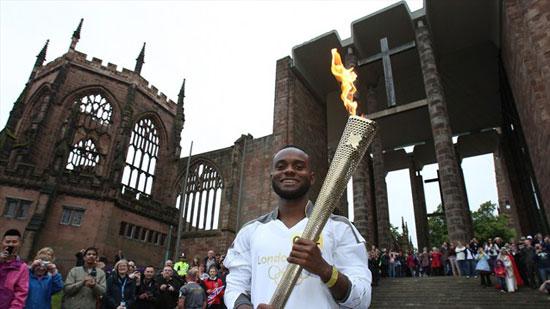 The Flame at the Coventry Cathedral Ruins. Torchbearer Ali Abdillahi holds the
Olympic Flame at the Coventry Cathedral ruins during Day 45 of the London 2012
Olympic Torch Relay.
Editor:Bai Yang |Source: CNTV.CN