Watch Video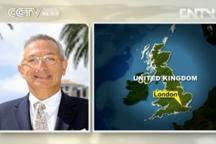 Play Video
Last night, the men's final four was decided...and it will be the defending champion, world number one, and top seed Novak Djokovic taking on six-time former champ Roger Federer on one side. And on the other, it will be Great Britain's Andy Murray squaring off against Frenchman Jo-Wilfried Tsonga. One of those two men, will advance to a first career Wimbledon final.
For more now on the semi-finals, we are joined live on the phone from London by our tennis insider, Craig Gabriel.
Q1. Craig, a warm welcome to you this evening. I imagine a lot of folks over there are talking about Andy Murray and, what might be, his best opportunity to reach a first Wimbledon final...but it does seem as if the real final this year - could be the semi-final between Roger and Novak as both cruised through their quarter-finals and appear to be in top form.
Q2. Over on the women's side, the semi-finals will be played later tonight. On one side, it's the third seed Agnieska Radwanska taking on the 8th seed Angelique Kerber, but the headliner will be the Serena Williams/Victoria Azarenka clash. It could be a noisy evening tonight!
Editor:Zhang Dan |Source: CNTV.CN