Watch Video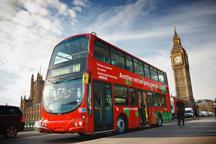 Play Video
As London prepares to host the world, the ability to get everyone attending the games as well as the residents where they need to go, is extremely important. Officials in London have already begun outlining Olympic road lanes, but that won't help the majority of people in the city who will not be in Olympic designated vehicles.
Most will be forced to take the London underground, which will put a strain on the system. And with the expected increase in ridership not far away, the city is taking steps to avoid any major delays.
Welcome to the London Underground transport system. One of the world's busiest will only get busier as the city gets ready to host the world for the Summer Olympics.
It's estimated that more than 3-million use the tube daily -- and that will only increase for the 17 days of the games. So to get people to plan ahead Olympic organizers and city officials have set up audio messages to help avoid travel chaos
If that voice is familiar it should be -- that was London Mayor Boris Johnson providing that simple warning to commuters.
That reminder is part of a broader plan urging Londoners in making sure the city runs smoothly by avoiding unnecessary travel, planning ahead and adjusting work schedules and even working from home.
Several maps have been distributed at Underground rail stations highlighting Olympic venues and people will have access to self-service bicycles around the city for hire as part of a drive to lessen the need for the underground.
Now if the plan works, depends on whom you ask.
Ewan Lacey, London resident, said, "I think it's going to be fine - I mean just general taking care, planning, making sure stations aren't shut, avoiding major interchanges - but yeah you can normally sneak round on the Overground and things like that as well, and sometimes get on the bike."
Mandy, London resident, said, "I think it's going to be horrendous, really. I don't know how I'm going to get to work. I'm actually starting to think maybe I'll work from home instead of struggling to get into work. So I've no idea.'"
Kelsey Stimple, US intern in London, said, "Actually my office is closing down for the Games so I don't need to worry about it too much. I mean I plan on only walking places and kind of staying close to home."
Organizers hope with people adjusting work schedules and working from home that will produce a drop in transport use during peak times, leaving room for the anticipated extra daily journeys during the Games.
Editor:Zhang Dan |Source: CNTV.CN