Watch Video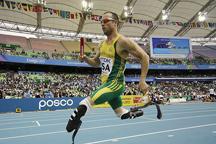 Play Video
Just a few days ago, it looked as if the dream of double amputee Oscar Pistorius to run in the London Olympics had come to an end.
But, what a difference a few days can make. After failing to hit the South African qualifying mark by a mere tenth of a second at the African Championships, the man known as the Blade Runner was left on the outside looking in.
However, as our Peter Koveos reports all of that changed on Wednesday, and now Pistorius is poised to make athletics history.
Oscar Pistorius is set to become the first amputee track athlete ever to compete at the Olympics. South Africa's Olympic committee chose him to represent their country Wednesday. The selection eased Pistorius's disappointment at his failure to qualify in the individual 400 metres.
The 25-year-old South African, who runs on carbon fiber prosthetics, missed out by less than a quarter of a second in his final qualifying race at the African championships last week.
Pistorius made history last year by qualifying for the world championships and winning silver in the 4x400metre relay. Pistorius is a decorated Paralympian winning several medals at the Beijing and Athens Paralympics.
Editor:Zhang Dan |Source: CNTV.CN