Watch Video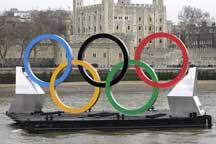 Play Video
After seven years of preparation the 2012 London Olympic Games are now just three weeks away. Of the seven million Olympic tickets, 80 percent have already been sold.
With tens of thousands of athletes and officials, even more media personel, and all of them needing to be transported, fed and housed, it's a logistical nighmare. CCTV's Richard Bestic has been tracking how people have been preparing in London and beyond.
Ringing in the Games as the UK capital's already ornate Tower Bridge is given an Olympic flourish.
Weighing three tons and stretching 75 feet across London's most famous of bridges, it's an Olympic message writ large.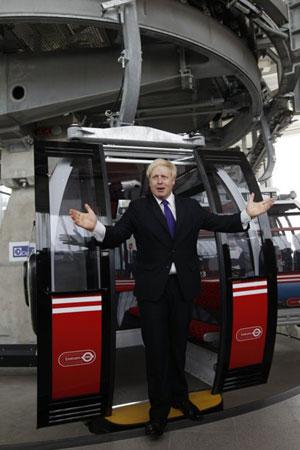 Boris Johnson, Mayor of London poses for the
photographers inside a Transport for London's
gondola lift cable car in London, Thursday, June
28, 2012.(AP Photo/Lefteris Pitarakis)
London gets ready.
Boris Johnson, Mayor of London, said, "We are as ready as any city has even been at this stage in the Olympic process, I think probably better. I think the International Olympic Committee would say what an amazing job the delivery authority, LOCOG, have done in getting London ready. And that's a big, big invitation from us to the world. It's saying here we are folks, we're ready, come to London."
And on the other side of world some of those prospective visitors have been getting out their "glad rags" as the outfits Chinese athletes will wear on the podium in London are revealed.
The uniform - revealed on the Great Wall - pays homage to Chinese traditions and Western elements - bringing the Year of the Dragon to London 2012.
And while the cost of the Games are likely to come in at twice original estimates, all the stadiums are up and ready for the running.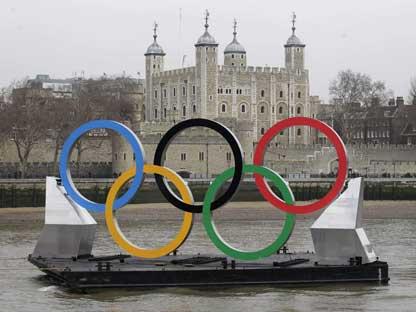 Weighing three tons and stretching 75 feet across London's most
famous of bridges, it's an Olympic message writ large.
And most tickets have been sold. But the worries don't stop there.
Security ahead of the games is high.
A combination of Army Navy and the police - alongside 20,000 private security guards - will protect the Games from terrorists both domestic and foreign.
Surface to air missiles will be in place while police snipers are to be strategically positioned around the capital.
In an already crowded town transport is going to be difficult especially with the possibility that drivers of London's famous red double decker buses may go out on strike unless they get an $800 bonus for working during the Games.
"The Olympic logistics remain mend I mean. In additon to 15 thousand athletes coming to London, There will be another four million people will be walking the streets of the UK Capital. And on the busiest day - August the fourth should you want to avoid it - there'll be an estimated 700,000 people criss-crossing the capital between 11 different venues like Wembley here. It'll be big, it'll be mad. The best advice is to sit back and enjoy the show. Richard Bestic, CCTV, London."
Related stories
Editor:Zhang Pengfei |Source: CNTV.CN