Watch Video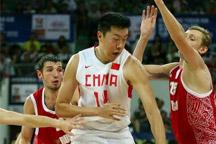 Play Video
China men's national basketball team hosted Russia in their third match of the Stankovic Cup on Sunday. China, reeling off two straight wins to start the tournament...and one more would see China join Australia in the final in Guangzhou.
Yi Jianlian, the former Dallas Mavericks forward returned to the starting line-up after being rested against Australia on Saturday. He jumped into form early and put China on top by two with the slam.
Russia looked powerless to stop Yi, who gave China a 7-point cushion to cap a 12-0 run. But the visitors refused to yield and took advantage of the space under the basket, cutting the deficit to four late in the first half.
But China opened the second half in an emphatic way. Sun Yue restored a 7-point lead for the home side. The two sides struggled a bit on the offensive side of the ball...but some shaky China "D" allowed Russia to keep it close heading into the final Q.
But there, Yi Jianlian would make sure his side was heading off to the final game. He stepped up big down the stretch, and would finish with 28 points, 17 boards in this one. Yi Li sealed the win for China as they beat Russia 73-67, achieving their third straight victory of the campaign.
And after the match, a nice moment for veteran Wang Zhizhi...as the Chinese legend was treated to a 35th birthday surprise from his teammates.
Editor:Wang Chuhan |Source: CNTV.CN