Watch Video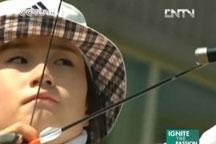 Play Video
With the London Games rapidly approaching, many nations are taking figurative aim at Olympic glory, but for the South Korean archery team that aim is indeed, very literal. The squad isn't just trying to remain on target but also keep a winning tradition alive. The team has set a goal of capturing four gold medals.
And as CCTV Seoul correspondent U-Jean Jung reports, one of those triumphs may come from one of the squad's newest members who will be making her Olympic debut.
Meet South Korea's Olympic archery team. This squad of three male and three female archers have been handed the task of keeping the country's Olympic tradition on target.
Since the nation debuted their archery team at the 1984 Summer Olympics, they have made their opposition quiver; claiming 16 of 26 gold medals.
This year's team is paced by the world's second best female archer, Ki Bo-bae.
The precocious 24-year-old, will be competing in her first Olympics, and is showing no signs of nerves.
Ki Bo Bae, Archer of South Korean Olympic Team, said, "I worked a lot on my weaknesses, and I'm going to focus on training until I get to London. I'm practising intensively to win the gold medal."
Ki is no stranger to team success, having been part of the South Korean gold medal squad at the 2010 Guangzhou Asian Games. She also tasted victory as part of the South Korean team that won a Pre-Olympic meet in London in 2011, and an Archery World Cup event in Turkey this year.
Those accolades are impressive, but her most remarkable feat, may have been when she pulled off the rare "robin hood arrow" at the World Championships in Italy last year, splitting one arrow with another within the 10-point circle.
Now her focus is on a new target -- an individual gold at the Olympics.
Ki said, "We trained in baseball stadiums to adapt to noisy surroundings, and we also went bungee jumping . We basically trained in every way possible to help us shoot better arrows."
Her coach, believes that part of his pupil's success comes down to a natural touch shown by Korean women, who are said to have traditionally nimble fingers, giving them an advantage in this delicate sport that relies so much on feel.
Baek Wonng Ki, coach of South Korean Women's Olympic Archery Team, said,"Our female national athletes have an incredible sense of touch in their fingers. They tend to know where the arrow will hit the target, the moment it leaves their hands. That is an important skill, but we must train them so they can do it consistently."
Ki said, "I think many of the veteran archers on the team are real tough cookies. They practice really hard. I think that's the secret behind South Korea keeping its position at the top."
But a rule change at the Olympics may affect South Korea's ability to land on top of the podium. In Beijing, archers were ranked based on their scores after shooting 12 arrows. In London, it will be a head-to-head tournament format where each archer will shoot five sets of three arrows. And how well a competitor does in each set becomes more important than each individual shot. But the South Korean team is prepared and is ready to tackle this up-coming change.
Related stories
Editor:Zhang Jingya |Source: CNTV.CN