Watch Video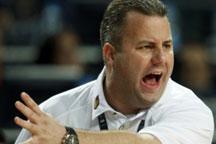 Play Video
Chinese Men's basketball team goes into the Olympics on a high note. But it's unclear what can be expected of this squad in London. They are the Asian champions, but will be without Yao Ming for the first time in more than a decade.
The only thing we can be sure of, is that following the games, the team will be in search of a new coach as Bob Donewald Jr, has said he will not return.
This year started with promise for Bob Donewald Jr., his Xinjiang team made it to the playoffs, but were ousted in the CBA semi-finals.
But the American had no time to dwell on missed opportunities, as he had to take the reins of the Chinese National Men's basketball team -- and prepare them to qualify for the London Olympics.
Bob Donewald Jr., Head Coach of Chinese National Men's Basketball Team, said,
Donewald has been questioned since he began coaching the Chinese team because of his lack of coaching pedigree.
Donewald chooses to ignore that chatter and focus on the things he can control.
China is not expected to fare well at the London Olympics, and even making it out of the group stage could be considered optimistic.
Predictions don't worry the coach, he knows the Olympics could be the last chance for him to prove himself on the world stage as his contract with the Chinese men's basketball will end after the London Olympics.
And with the end of his term on the horizon, Donewald has had an opportunity to reflect on his time in charge of the national team.
Editor:Zhang Jingya |Source: CNTV.CN