Watch Video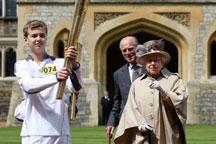 Play Video
And the Olympic torch relay continued its trek throughout Great Britain, and on Tuesday the flame received the Royal treatment as the journey came to Windsor Castle. And that included a first meeting with Queen Elizabeth II.
The torchbearer 74-year-old Gina Macgregor was caught in a sudden downpour as she came onto the grounds of Windsor castle.
Then as the skies cleared the Queen and her husband Prince Philip, the Duke of Edinborough, met with several other torch-bearers and officials.
She was also given an up close look at how a torch is lit. Day 53 of the relay also included a meeting with LOCOG Chairman Lord Sebastien Coe. It is less than three weeks before the torch is lit in London to signal the start of the 30th Olympiad.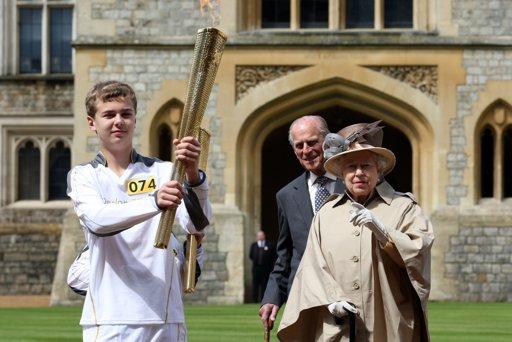 WINDSOR, UNITED KINGDOM - JULY 10: In this handout image provided by LOCOG,
Queen Elizabeth II and Prince Philip, Duke of Edinburgh look on as Olympic
torchbearer 074 Phillip Wells holds the Olympic Flame at Windsor Castle on
day 53 of the London 2012 Olympic Torch Relay on July 10, 2012 in Windsor,
England. The Olympic Flame is now on day 53 of a 70-day relay involving 8,000 torchbearers covering 8,000 miles. (Photo by LOCOG via Getty Images)
Editor:Zhang Jingya |Source: CNTV.CN