Watch Video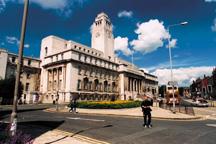 Play Video
The first Chinese Olympians have begun to arrive at their new home away from home in the run-up to the Summer Games the city of Leeds. Chinese officials selected Leeds as their official training base last August, in a deal worth around a third of a million dollars.
Leeds struck the right chord with the Chinese Olympic organisers. Although the city is 200 miles from where the Olympics are to be staged in the UK capital.
In a glitzy promo, city elders pushed their high end sports facilities and local sporting traditions. It worked and this week the first Chinese athletes arrived for their final preparations for the big event two weeks away.
The one and a half million people of Leeds are delighted with the novelty of their new visitors. Staying at Leeds University, the Chinese squad's athletes, coaches and support staff will be following in the footsteps of thousands Chinese students who've studied here.
Their sleeping accommodation is small but functional. During their stay among the people of Leeds, the Chinese will be given a glimpse of English life its weather and its food.
As a community, Leeds dates back around 1500 years coming to prominence during the industrial revolution in the 19th century. Leeds today is looking for a little more than just reflected glory of Olympic gold.
Editor:Zhang Dan |Source: CNTV.CN