Watch Video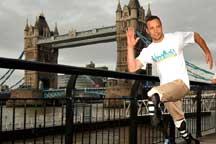 Play Video
Although his place in the London Olympics is now secured, South African sprinter Oscar Pistorius remains a polarizing figure. The man know as "The Blade Runner" is set to become the first double amputee to ever compete in the Olympics as he will run in the 400m and 4x400m relay.
However, there are still those who question if he should be allowed to and if his carbon fibre blades give him an advantage. Our South African correspondent Dan Williams has been looking into the issue and files this report.
Oscar's dream of competing in the Olympics will soon be realized. But his achievement to run on the biggest stage of all has also reignited the debate over his eligibility. Does he, with his cheetah carbon fiber blades, have an unfair advantage over able-bodied athletes? Are blades really better than legs?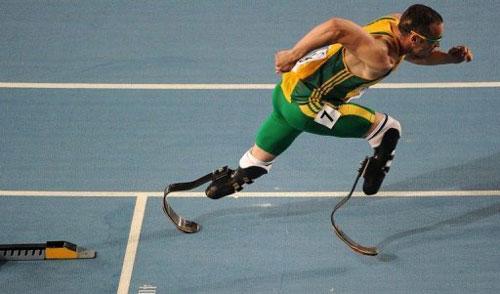 South Africa's athlete Oscar Pistorius after competing in the men's 400 meters
semi-finals at the International Association of Athletics Federations (IAAF)
World Championships in Daegu, South Korea, in 2011.(AFP Photo/Olivier Morin)
Prf Tim Noakes, University of Cape Town, Sports Science, said, "I think Science can answer many questions but there are some questions that can't be answered and I think this is one of the questions that science can't answer. A lot of focus has been on the advantages that Oscar might benefit from his artificial prosthesis. But we don't know what the disadvantages are for not having the legs and the muscular power. But how do you balance the advantages with the disadvantages? Science cannot answer that question."
Oscar had both legs amputated below the knees at eleven months of age. In 2008, he was banned by the IAAF from competing against able-bodied athletes. But he took the case to the Court of Arbitration and won. Last year, he competed at the World Championships after running a personal best of 45.07. With Olympic qualification, so the debate begins again. And even though more advanced cheetah blades are now available, Oscar continues to run on the older version.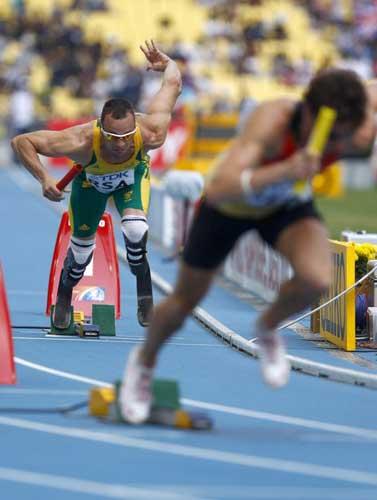 Oscar Pistorius of South Africa comes out of the starting
block at the start of his men's 4x400 metres relay heat at
the IAAF World Championships in Daegu in this September 1,
2011 file photo. REUTERS/Michael Dalder/Files
Trevor Brauckmann, Oscar Pistorius'Prosthetist, said, "I can push it as hard as I can and you will see that this doesn't just…it's not a spring. It is a carbon-fiber laminate. So what will happen is under load, it will compress, and it will release. There is no spring. Yes there is a spring effect but there is no spring in it. He has to drive this thing. It doesn't just run. Somebody has to make this thing run."
Dan Williams, Pretoria, South Africa, said, "Regardless of where you stand on the debate, Oscar's qualification for the able bodied Olympics is an incredible achievement. His battle embodies the Olympic creed that it is not about the win or the triumph but rather the struggle."
His former head-teacher remembers how Oscar fell into the sport completely by accident after picking up an injury playing rugby.
William Schroder, Oscar Pistorius'Headmaster, said, "He certainly would never have become an athlete, I don't think, had he not had this rugby injury. Because very much, with these type of schools the emphasis is on team sports. He was certainly told he shouldn't play rugby and being the kind of guy he was he wondered what was the alternative. And the rehab started with running and suddenly it was realized that this guy was going to be good."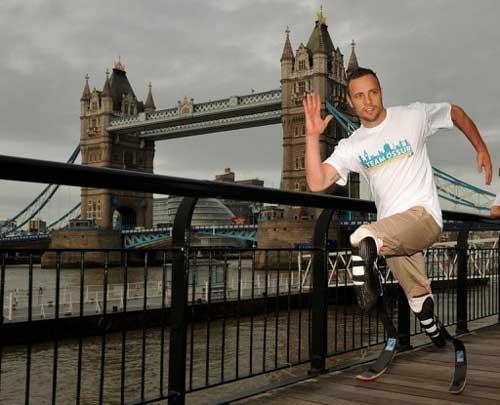 South African 'Blade Runner' Oscar Pistorius in London in September. Pistorius
will become the first double amputee to compete at the Olympics after being
included Wednesday in the South African 4x400-metre relay team for the 2012
London Games, an official said. (AFP Photo/Ben Stansall)
Good is one thing the problems for Oscar will really start if he becomes great. If he runs a world record time or even wins a medal.
Trevor Brauckmann, Oscar Pistorius'Prosthetist, said, "It's only when somebody pushes the boundaries of what we are comfortable with as able bodied people, that suddenly now we're worried that he has some kind of advantage."
Prf Tim Noakes, University of Cape Town, Sports Science, said, "He's done an enormous amount for athletics. He's done an enormous amount for people with disabilities. And it's going to be wonderful to see him competing in the Olympics. It's going to take the Olympics in my view to another level. He is unique."
Whatever happens, when Oscar steps onto the track, his place in Olympic history will be assured but winning over some of the sceptics is a race he may never win. Dan Williams, CCTV, in Pretoria, South Africa.
Related stories
Editor:Zhang Pengfei |Source: CNTV.CN