Watch Video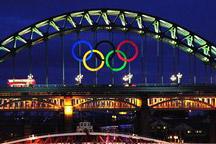 Play Video
More than 200 nations will compete at the Olympic Games with many of the visitors to be welcomed by communities from those nations, providing a readymade support club for the athletes of the world.
London: a crossroads for the world. For centuries, people from around the world flocked here, fleeing persecution, conflict, famine or just seeking a better life. Waves of immigration have turned the British capital into an international melting pot with a unique identity, an eclectic mix of cultures that will be taken to new heights with the arrival of the world's top athletes, and their fans, for the Olympic Games.
Girish Patel knows a thing or two about international athletics. A pole vaulter, he represented Britain on the international circuit even though like 480,000 other Londoners, he has Indian origins.
Girish Patel, former vaulter of British Pole Vault International, said, "You know, I was proud to represent Britain, proud to be a British international athlete. But of course, in my heart lies India, so when I see Indians competing in major competitions, I'm always rooting for them.''
It's a similar story in Brixton, south London, home to much of the capital's Jamaican community. They'll be behind sprint star Usain Bolt when he strides into the Olympic stadium. Bolt will bring a taste of their Jamaican homeland to London but that may not be necessary. Musician and local entrepreneur, Levi Roots says the whole world is already here.
Levi Roots, musician and entrepreneur, said, "London has opened up its door to the world. And when you walk around man, you know what I'm saying, it's just like you are in a different country every 10 steps."
And it's certainly easy to step into some Gallic culture. With 300,000 French nationals here, London is now the sixth biggest French city in terms of population. And as communities make their mark on the city, they will be hoping their athletes make a mark on the world. For Soho's Kung Fu master Yap Leong, the Olympics are an opportunity for his native China to gain international respect.
Yap Leong, Kung Fu master, said, "They're a third world country. Now China is progressing and it's just to show that China is not weak anymore. They're strong, even in terms of competitions, and stuff, in all levels."
Peace among nations and striving to be the best embodies the Olympic spirit. So it's probably fitting that London is the first city to host the Games three times. When the torch is lit, athletes from around the world will be fighting for glory, and they can be sure that some part of London will be standing up to cheer them on.
Editor:Wang Chuhan |Source: CNTV.CN