Watch Video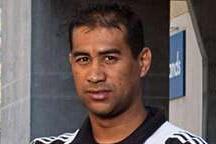 Play Video
Oscar Pistorius and Natalie du Toit are two renowned South African athletes. Natalie competed in both the Olympics and Paralympics in 2008 and Oscar is set to emulate that achievement in London.
Their stories are inspirational but they're not the only ones on the South African team, with heroic tales. Achmat Hassiem survived a horrific shark attack. And as Dan Williams reports, Hassiem's life took a new direction culminating in him representing his country at the Paralympics.
Facing down the fear, the scars of the shark attack suffered by Achmat Hassiem are clearly visible. It was here in 2006 at Muizenburg beach near Cape Town, where his life would take a dramatic change of direction. While performing life saving duties Achmat saw a great white shark heading towards his brother.
Achmat Hassiem, South African Paralympian, said, "And as I looked at the shadow I saw this big fin come out of the water. I thought to myself is this going to happen? Is my brother going to be attacked in front of me? I started drumming on the water, making a fuss, to draw the shark's attention away from him. Immediately, the shark's attention immediately spun and came towards me."
Achmat had successfully distracted the shark…but he himself had now become the target.
Achmat Hassiem, South African
Paralympian
Achmat Hassiem, South African Paralympian, said, "I remember the tail just flapping and it hit me in the face. I remember thinking now all I've got to do is like swing my right leg forward and over the sharks body and then that way I would like ride the shark. As I pulled my right leg forward, my right leg didn't want to come forward and I decided to have a look to see what had gone on. I turned around next thing I saw, my leg was in the shark's mouth."
His friends and brother on the rescue boat lost sight of Achmat. He had been dragged some 50 meters under the water and out to sea. Luckily they saw a splash on the horizon.
Achmat Hassiem, South African Paralympian, said, "I remember this crackling sound and next thing I know, boom I was free. Immediately I swam for the surface. And that is when I left my arm up there and I saw this person hang over the side, just looking straight at me with his hand down. And as my brother pulled me into the rescue boat and as I fell in - this massive head came out and hit the side of the boat. My brother immediately jumped on top of me. Closed my eyes and said that everything was going to be okay. "
But things were far from okay. Achmat woke up in hospital. Although lucky to be alive…he was then told the news that he had lost the lower part of his right leg.
Achmat Hassiem, South African Paralympian, said, "I remember just lying there and the dreams of representing my country in sports some day, that had always been my dream since a child, are out of the window."
South Africa's iconic Olympic and Paralympic athlete, Natalie Du Toit assisted with getting Achmat back into the pool. It wasn't long before he had a new goal.
Achmat Hassiem, South African Paralympian, said, "She came up to me and said, you know what has happened to me and I want to stop you from heading to any bad direction and I want you to make something of this."
Although Achmat competed at the Paralympics, he was inexperienced and failed to medal. This time round he is one of the favorites and he is determined he won't come home empty handed. If Achmat is successful he will join the likes of Natalie and Oscar Pisrtorius as medal winning South African Paralympians. Like them, his story and bravery will act to inspire others.
Related stories
Editor:Wang Chuhan |Source: CNTV.CN