Watch Video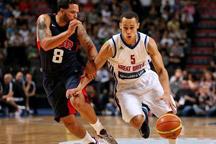 Play Video
The USA men's Olympic basketball team played its first warm-up match in Europe on Thursday. The squad faced Games host Great Britain in Manchester.
Team USA will be the clear favorite in the men's tournament in London. The team showed its dazzling ability, including Oklahoma City Thunder forward Kevin Durant...driving the baseline for a dunk.
Kobe Bryant is the 'old man' in the US team at the age of 33, but the LA Lakers guard rolled back the years. He hit a turnaround jumper and the USA looked solid against the Brits.
Chicago Bulls forward Luol Deng is on the Great Britain side, he drove and scored to cut the USA lead to three in the first half. But the defending Olympic champs took over from there. OKC guard Russell Westbrook regained his stride from the NBA finals. The USA pulled away on the scoreboard.
Great Britain does not hold high expectations for the Olympic tournament, but knows it will be in the basketball spotlight. Third quarter, Deng hit from inside, but the USA still had a double-digit lead. And it wasn't long before the Manchester crowd got the show it wanted to see LeBron James made it a 29-point advantage on the slam.
Ex-Kentucky Wildcat and number 1 NBA draft pick Anthony Davis got into the act. The USA cruised over Great Britain, 118-78.
Carmelo Anthony, USA forward, said, "We had a big test against Brazil, a team that has some big guys. Argentina will be another big test. Of course everyone wants to see the Spain game, so we are preparing for it as we speak."
Lebron James, USA forward, said, "Absolutely, it doesn't get any more explosive than that. That's the dynamic of our team. We have the ability to do multiple things with our line-ups. It's a luxury to have."
Chris Paul, USA guard, said, "I think each game we are progressing a little bit more in the competition. We've had three great games so far. We got to keep getting better because we know when we get there against Argentina and Spain, they will be big games."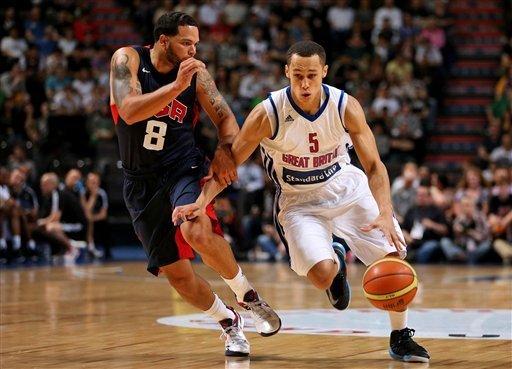 Great Britain's Andrew Lawrence, right, gets past USA's Deron Williams during an
Olympic Warm Up match against the USA at the Manchester Arena, Manchester
Thursday July 19, 2012.
Editor:Wang Chuhan |Source: CNTV.CN