Watch Video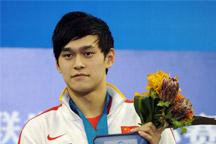 Play Video
China's rising swimming star Sun Yang is getting-in his final practice laps at the team's UK base at the University of Bath.
The 20-year-old has spent the last four years building toward a star-making role at these Olympic Games. He shook up the swimming establishment with two gold medals and a new world record at the 2011 FINA world championships.
Four years ago, the then-16 year-old Sun appeared at the Beijing Games and finished eighth in the 1500 freestyle. But since then, his rise seems unstoppable. He took two gold medals and two silvers at the 2010 Asian Games, and went on to surprise the experts by taking 4 medals at last year's FINA World Championships.
In the 1500 freestyle, Sun broke the mark set by Australian legend Grant Hackett. It was the longest-held world record in swimming. Sun is at the top of his game, and only has one real rival for the gold this summer.
Liu Haitao, coach of Chinese National Swimming Team, said, "Nobody has come close to beating Sun, especially in freestyle. The biggest threat may be Park Tae-Hwan from South Korea."
Park won the 400m freestyle gold in Beijing, and could upset Sun in the shorter-distance race. But when asked if anybody could come close to Sun's 1500 meter record, China's chief technical researcher gave a hint of the team's confidence.
Lu Yifan, Chief Technical Researcher of Chinese National Swimming Team, said, "It is very difficult for me to see that. It is just a guess. We hope he can break the record. Maybe he could break the record by several seconds."
Lu hopes Chinese Team will achieve at least three golds in the pool. But both he and Liu singled out Great Britain's Ellen Gandy as a real threat in women's 200m butterfly.
Lu Yifan said, "Gandy is capable of swimming 2 minutes, 5 seconds, maybe. That's a very, very good result and we pay very close attention to this girl."
At last year's world championships, Gandy won silver in a time of 2:05.59, finishing 0.04 seconds behind China's Jiao Liuyang. Their matchup might be one of the can't-miss showdowns at London 2012.
JUST GUESS: Who will win Men's 400m Freestyle?>>
Editor:Wang Chuhan |Source: CNTV.CN