Watch Video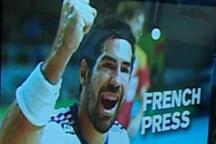 Play Video
One of the many Olympic teams looking to repeat as champion is the French men's handball squad. The players tasted Olympic glory four years ago in Beijing, and have continued their winning ways. But this tournament could spell the end of the current golden generation of French handball.
There is an old saying that winning breeds winning -- and the French men's handball team is used to victories.
Since they claimed gold at the Beijing games -- they have added two world titles and an European crown to their resume -- so it is no surprise that they are confident heading into London as heavy favorites.
Nikola Karabatic with French Olympic Men's Handball Team said, "In the past four years, we have been the team everyone wants to defeat. Other teams are a little fed up with seeing us win. Whenever a team plays against us, they play their best match against us. This is nothing new to us, so it will not be a big surprise to see the same thing at the Olympics."
Claude Onesta, Coach of French Olympic Men's Handball Team, said, "I think that this team's players are most capable of leading us to get a medal in these Olympics. When you see how committed and disciplined they are, when you see their ambition and determination, they do not look like old players, but talented players, with the kind of experience which is crucial in such complex and demanding competitions."
This group of players is the only side to hold all three major titles at one time -- that being the Olympic, world and Euro titles.
France was unable to retain their Euro crown earlier this year, so claiming another Olympic gold medal holds more importance, since many on the team know they can't continue to win forever.
Jerome Fernandez, Captain of French Olympic Men's Handball Team, said, "What we want is to enjoy the moment. We have an exceptional team, we get along extremely well. We want to enjoy it to the full. We know that some of us will retire. And we do not want to waste this opportunity. We want to do everything we can to allow every player to serve the team and to all have the same medal around our neck."
Karabatic said, "We have this last opportunity to play at the Olympics together with this team, with this generation of players who have won everything. So yes, we want to win the Games, because as a team we deserve it, and because maybe this is the last opportunity to win a Gold medal or an Olympic medal."
The Olympic men's handball competition begins July 29th with the preliminary round.
Related stories
Editor:Zhang Rui |Source: CNTV.CN