Watch Video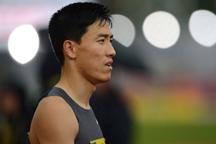 Play Video
He is arguably, China's biggest sporting star and is most certainly the nation's biggest athletics star. 110m hurdler Liu Xiang, the 2004 Athens Olympic champion, has seen his career go from that high in Greece to his biggest low, which came here in Beijing at the 2008 Games when injury left him sidelined at the worst time possible. However, following that disappointment in the Chinese capital, Liu has worked hard to get back to the form that saw him become an Olympic champion and may be ready to return to the top of the world this summer.
12.87 seconds!
Since his lowest point as a hurdler, Liu Xiang has endured nearly four years of rehab to get back to the top.
The Chinese hurdling star matched the world record with a wind assisted run at this year's Prefontaine Classic.
Liu said, "I did my best today, matching the level of my training. It's just one race."
That is the right attitude to have. Everytime Liu takes to the starting blocks, he only needs to complete one race.
But it is the one that he couldn't complete that still haunts him -- with a nation's hopes on his shoulders he was unable to finish the 110-metre hurdles at the Bird's Nest during the 2008 Beijing Olympics.
Liu said, "I kept fighting the injury, but my foot couldn't stand it anymore. I had to face the reality and let down my supporters at the stadium."
Liu Xiang's rehab was filled with perseverance.
A procedure to his Archillies tendon was successful. But he had to withstand hundreds of days of incredible pain, tedious recovery, as well as a psychological burden.
Liu said, "You can't get impatient. My eagerness grew. I didn't understand why I couldn't recover quicker. I realized I must be patient to achieve a faster time. Impatience is useless. I'm lucky, it's only a minor injury. I hope I can overcome it. "
Eventually, he crossed perhaps the biggest hurdle in his life and returned to track.
At this time, a new obstacle was descending on him.
Liu said, "I will change my start, from 8 to 7 steps before the first hurdle. I used to use my right foot to start, now I need to use the left one. The change to me is very difficult. It's a huge challenge. But I am confident I can do my best."
His new starting technique provided a kick-start to his career.
After several indoor and outdoor wins this year, Liu is on his way to his third Olympics and is considered a favorite in London.
Liu said, "I need to adjust well to my shape. The Olympics to me is just another race."
This will likely be his final chance on the world's biggest stage. And his abrupt withdrawal from the London Diamond League meet ahead of the games casts a shadow on Liu's chances.
Liu Xiang's Olympic story has taken many forms -- from Olympic champion, to tragic fallen hero on home soil.
The hurdler has already made his mark in Chinese sporting history, but the final Olympic chapter is yet to be written.
Editor:Zhang Rui |Source: CNTV.CN