Watch Video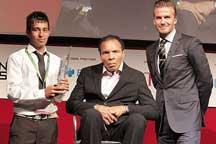 Play Video
Some of sports' greatest names gathered for an awards ceremony in London on Tuesday. Soccer star David Beckham was there, along with former heavyweight champion Muhammed Ali, for an inspirational event focusing on the impact of sports on young people worldwide.
Nineteen-year-old Afghan refugee Matiullah Haidar was handed the inaugural Generation Ali Beyond Sport Award, which acknowledges young people who have inspired their peers through sport. Beckham described boxing champ Ali as "an amazing man" during the ceremony.
The former England football captain Beckham visited the Olympic stadium in Stratford on Tuesday and called it "a proud moment" watching the Games arrive in that part of London.
The LA Galaxy midfielder refused to reveal what role he would play in the Olympic Games opening ceremony, but said it was something he was an event he was "honored to be involved in". Becks says he is still hungry to win more championships in football, and added that he will also keep working as a UNICEF ambassador.
David Beckham said, "I think I'll always be involved in the game because it's been in my life for so many years and I love this sport. but, you know, going forward, you know, obviously I'm a UNICEF ambassador and that is something I want to continue to honour and start enjoying going into the field and doing certain things with that. So there is a couple of things in my mind."
Related stories
Editor:Wang Xiaomei |Source: CNTV.CN