Watch Video
Play Video
Top European football clubs battled in China Thursday night. German powerhouse Bayern Munich continued its pre-season schedule with a friendly against fellow Bundesliga side Wolfsburg for the Audi Cup in Guangzhou.
Both sides fielded first team players, fans got to see their favorites in this match. Bayern Munich had just routed Beijing Guo'an 6-0 in the Chinese capital two days ago.
Frank Ribery and Arjen Robben were in-form on both flanks for Bayern Munich. Thomas Mueller created a penalty around the half-hour mark and Mario Mandzukic hit from the spot for 1-0.
Robben chipped the ball up and over the keeper. Bayern Munich held a two-goal cushion into the break.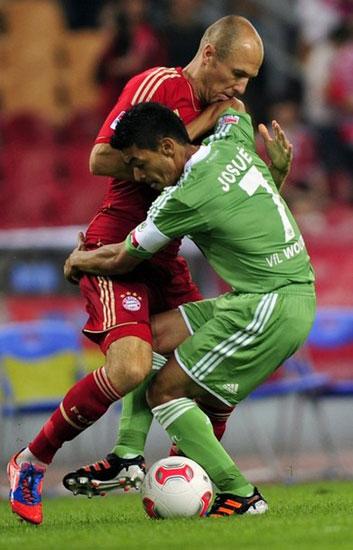 Arjen Robben (L) of Bayern Munich tussles for the ball against
Josue Josue of Wolfsburg during a match in Guangzhou, south
China's Guangdong province on July 26, 2012. Bayern Munich beat
Wolfsburg 2-1.(Getty Image)
In the second half, both sides struggled to establish some rhythm. Wolfsburg hit the target in added time, but ran out of time to score an equalizer. Bayern Munich cruised to a 2-1 win in Guangzhou. Bayern's next pre-season friendly is against the Bundesliga's Hamburg on August 4.
Related stories
Editor:Yang Jie |Source: CCTV.com