Watch Video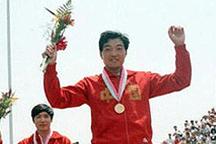 Play Video
Zhao Guorui said, "Xu Haifeng has his own characteristics. You can say he was a late bloomer in shooting and was very gifted."
XuHaifeng said, "Sport is a special profession, different from any other ones. It is an honor to be an athlete. So far, only in sports can you hear your national anthem played and see your national flag raised in honor of your accomplishments."
From shooting birds with a sling as a child to winning the Olympic gold, XuHaifeng has always been an ambitious sharpshooter. As a new athlete, and only had been trained with the national team for about two years, Xu became the first person to break China's "zero record" in Olympic gold medals during the 1984 Olympic games in shooting.
XuHaifeng said, "Winning the first gold medal and breaking through the zero record was because the event was scheduled earlier than others. I think it was just an opportunity. And I feel I was lucky that my event was on the first day and was the first competition. "
Zhao Guorui said, When China first took part in the Olympics, mentally we did not have a lot of pressure. As long as we won one gold medal, we were satisfied. It was an advantage that our athletes had little pressure psychologically and could focus on the games.
XuHaifeng said, "I was very serious and devoted during training. I studied this event during my spare time to discover key elements to do it well. I applied my discovery to my training and performed steadily at the competition."
But in the 1992 Barcelona Olympics, Xu faltered and scored the lowest point in his professional shooting career.
XuHaifeng said, "I was over confident and did not prepare very well. If I had been more serious and better prepared, the gold medal should still be mine."
Zhao Guorui said, "After the qualification competition, Xu was supposed to rest and keep his mind clear before the finals. But at the time, some people from the sports committee surrounded XuHaifeng to chat with him. I should have taken him away from the distraction. When the finals began, Xu didn't have adequate time to focus and with already having high expectation for himself, he lost the competition."
XuHaifeng said, "I learned from my mistake and when I became a coach, I made my athletes rest well before each competition. I would give them guidance to help them stay focused on the games."
Being called as a golden athlete and golden coach is no coincidence,Xu later became a coach for the Chinese National Shooting Team, and has successfully led his athletes to several gold medals at Olympic events and produced many world champions.
XuHaifeng said, "It was not because I taught well, but due to my different teaching ideas from the other coaches, I would provoke their creativity. Athletes on the national team are good enough and I don't need to teach them about skills necessarily. But during training, I would apply methods that would make them compete with each other and learn from each other. This way, their levels would be improved gradually."