Watch Video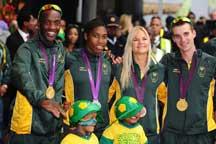 Play Video
South Africa's Olympic Team returned to a huge welcome in Johannesburg. Thousands of fans braved cold weather at the OR Tambo International Airport, and the athletes were more than happy to show off the medals they won in London, and enjoy their special moment in South Africa's sporting history.
It's official. South Africa - which has a population of 50-million people - has Olympic Fever! Fans turned out in their numbers to see the team which had brought home three gold medals, two silver and one bronze.
Rene Del Carme, Johannesburg said, "Team South Africa had set themselves a goal of picking up at least 12 medals at the Olympic Games in London. And even though they only managed to meet half that target, they arrived home to a Proudly South African hero's welcome."
And while the fans showed them the love...South African Olympic Committee Officials showed them the money. Each medallist was handed a cheque for their impressive achievements in London.
The top earner was Chad le Clos - who got 600-thousand rands - for winning both a gold and a silver medal.
And runner Caster Semenya received a cheque of 200-thousand rands for her silver medal in the women's 800m final. She dismissed those who had criticised her for bringing home a silver medal, instead of going for gold.
South Africa's Sports Minister, said he had no words to describe his pride in Team SA. And he called on sponsors to invest heavily in South Africa's London Olympians as they were the kind of role-models South Africa's youth needed.
South Africa's Olympic Committee admitted that they were disappointed that Team SA hadn't managed to scoop a few more medals But praised the athletes for giving 100-percent in their quest for Olympic glory.
Editor:Wang Shuo |Source: CCTV.com