Watch Video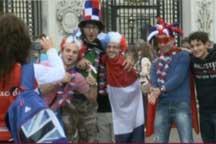 Play Video
The London 2012 Olympics are being hailed as a sporting and logistical success, but the economic impact is far less certain. Some London tourist attractions, businesses and hotels reported business actually fell during the Games. But as Olly Barratt reports from London, the overall UK economy is looking for long-term results.
Throwing an Olympic-sized party like this cost the UK almost 15 billion dollars. But while spectators flocked to east London's Olympic Park, central London has been much quieter than normal.
Arthur Rason, Central London Stallholder said, "Am I taking less Yeah, I'm taking less. There's no question about it."
Restaurants were among businesses that reported lower takings than normal at this time of year. And one tourism trade association says a survey of its members found the Games had had a negative impact all over the UK. But during a difficult recession, British officials still insist the Games were worth it.
Boris Johnson, Mayor of London said, "I think it's been an amazing display of what you can do if you plan and you work for years and years on a project, and I think it's a great advertisement for British engineering, British industry."
The government hopes the Games will be a boost to the British brand worldwide, and they were also an opportunity to sweet-talk potential investors from all over the world. And a fall in takings for some attractions should not have come as a surprise.
Bernard Donoghue, CEO, Association of Leading Visitor Attractions said, "Most host cities see a reduction in their visitors during the Games period cos the kind of visitors who come to an Olympic games tend not to go to museums and galleries and theaters."
Some naysayers, however, point out that London is already one of the world's top tourist destinations, so even the Olympics may not boost visitor numbers significantly.
"It's incredibly hard to quantify the economic impact of the London Olympics. Some tourists may in future say they were inspired to visit by the 2012 Games - but maybe in reality they would have come anyway. For a lot of Londoners, however, hosting the Olympics was such an experience they would now describe it as 'priceless'.
Editor:Wang Shuo |Source: CCTV.com