Watch Video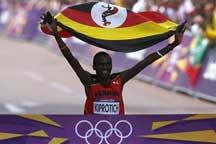 Play Video
For the first time in 40 years Uganda is celebrating a gold-medal achievement from the Summer Olympics. Marathoner Steven Kiprotich outlasted the best in the world in London to claim the final athletics gold of the games and bring his nation to its feet. Our correspondent Isabel Nakirya has more now, on the heroes welcome the running man received in his triumphant return home.
He walked out of the British airways flight shortly after 7:30 am local time to ululations from fans, family members and government officials. Steven Kiprotich, Uganda's 2012 London gold medalist raised high up the Ugandan flag just like he did on the finishing line after running 42 KM at the Olympics. Cheering crowds made it difficult for the 23 year old athlete to walk freely and had to be given protection from Ugandan security officials.
The Uganda Prisons accorded Steven Kiprotich to a guard of honors welcome. The Olympic gold medalist is a prison's warder for the Uganda prisons and he will now be given a promotion as an assistant superintendent of prisons.
This is the first time Uganda is winning an Olympic gold medal in 4 decades and fans who gathered at Entebbe International Airport to welcome the olympic gold medalist expressed joy at the win.
Bob Trubish, Ugandan Fan said, "I jumped and re-watched the moment again and again to convince myself that finally we had got this Olympic gold medal after 40 years of waiting since 1972 from Akibwa"
The soft spoken athlete who dropped out of school for an athletes career says government should construct modern track facilities to encourage sports personalities to perform better.
Uganda sent twelve athletes, two swimmers and one weight lifter to the London 2012 games and managed to get only one medal. Sports fans say more medals would have been won if the Ugandan government was investing heavily in sports.
Hamza Katende, Sports Trainer, "We had lost hope, the people that we thought would win a medal did not do that, an underdog came up?Kiprotich Steven and he won a medal on the last day"
The first ever Olympic gold medal was won in 1972 by John Akiibwayi. Ugandan President Yoweri Museveni has now promised to have a training center built in Kiprotich home district of Kapchorwa.
Isabel Nakyria, Kampala said, "Uganda has waited 4 decades for this moment, and though the country's performance at the london 2012 olympics was not that good, this one gold medal has made the country proud and the hope is that more medals will be brought back home in 2016."
Editor:Wang Shuo |Source: CCTV.com