Watch Video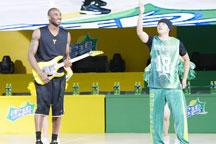 Play Video
LA Lakers megastar Kobe Bryant is continuing his China tour and on Saturday night he joined forces with Taiwanese pop singer Jay Chou for a charity basketball extravaganza in Shanghai.
More than 6,000 fans cheered as Bryant appeared with a guitar in his arms and Chou with a basketball. The Lakers star scored 68 points in 15 minutes in the charity game, but the final score was bumped up to 88 points after fans were invited to send in text messaging votes for both sides.
The event raised over 2.6 million yuan, or 409,000 U.S. dollars that will go towards Project Hope - which builds and improves basketball facilities in schools for underprivileged children in China. Earlier this month Bryant led the U.S. team to victory at the London Olympics and said he was satisfied with his performance at what turned out to be his last Games. He also said he was looking forward to the next NBA season.
Kobe Bryant said, "I have to give myself a ten because I did what I was supposed to do. My job in the team is to take the best player on the other team and try to stop him from scoring the ball. And then, when the opportunity presents itself, to score big baskets for my team, and I was able to do that. And then in terms of next Olympics, unfortunately, no, that's it for me. It was the last Olympics for me."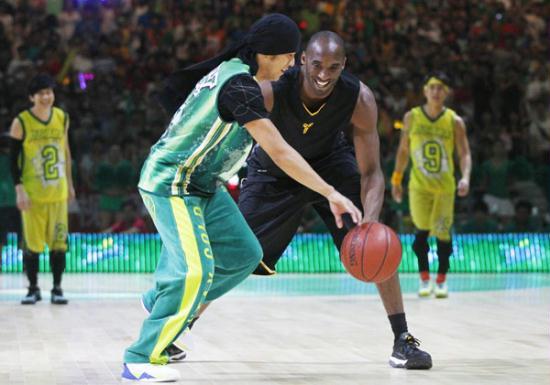 NBA basketball player Kobe Bryant of the US fights for the ball with Taiwan singer Jay Chou
(L) during a charity game in Shanghai August 18, 2012.[Photo/Agencies]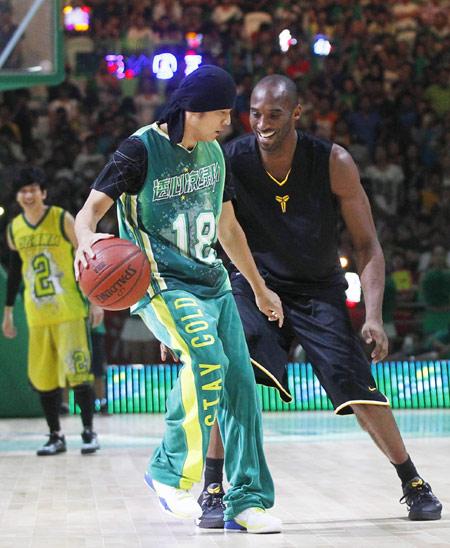 NBA basketball player Kobe Bryant of the US fights for the ball with Taiwan
singer Jay Chou (L) during a charity game in Shanghai August 18, 2012.
[Photo/Agencies]


NBA basketball player Kobe Bryant of the US performs with Taiwan singer Jay Chou during a
charity game in Shanghai August 18, 2012.[Photo/Xinhua]


NBA basketball player Kobe Bryant of the US performs with Taiwan singer Jay Chou during a
charity game in Shanghai August 18, 2012.[Photo/Xinhua]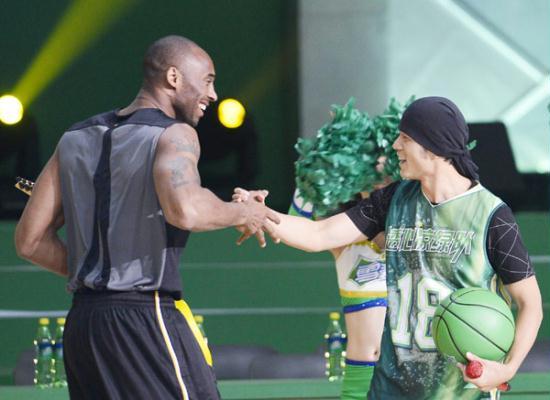 NBA basketball player Kobe Bryant of the US plays against Taiwan singer Jay Chou during a
charity game in Shanghai August 18, 2012.[Photo/Xinhua]


Related stories
Editor:Wang Xiaomei |Source: CCTV.com