Watch Video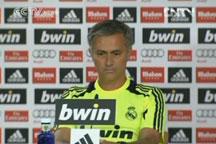 Play Video
With the new Spanish La Liga season now underway, the time-honored rivalry between Real Madrid and Barcelona is expected to heat up once more.
Real Madrid coach Jose Mourinho said on Saturday that there could still be movement in the player roster before the transfer window closes, but he promises to continue to deliver his own style of football.
Real Madrid begin the defence of their Spanish league title on Sunday with a home game against Valencia at the Bernabeu.
Last season Real dropped only seven points at home and two of those were against Valencia, resulting in goalless draws.
Jose Mourinho said, "It will be a very difficult match. But I think it's better to start like this. When you start against not such a tough opponent you have the natural tendency to feel like it's still pre-season. Many, many times you can make mistakes because of that."
Mourinho promised Real fans he would keep faith with an open, attacking style of football, whoever was wearing the famous white shirt.
Jose Mourinho said, "My intentions at Real Madrid are both complementary - to keep on winning titles in the first place, and to keep on playing a football with a very particular identity. We do play a style of football with our own identity. A fantastic style of football, in our opinion."
Pre-season speculation has linked Brazilian playmaker Kaka with a move to Turkish club Galatasaray, while Tottenham's Croatian international midfielder, Luka Modric, is rumoured to be on his way to the Bernabeu.
Mourinho would not be drawn on specifics, but said changes to the squad could still happen before the transfer window closes.
Jose Mourinho said, "It is very possible that someone will join us and that someone will leave us, but that's not important today. The important thing today is that we are playing tomorrow with the players we have now, which are great, by the way."
Meanwhile, Barcelona's new coach Tito Vilanova appeared before the media on Saturday. The 42-year-old said he will continue in the style of his predecessor Pep Guardiola.
Tito Vilanova, Barcelona coach, said, "Our team sees the change of coach merely as continuity. They would notice a change if they were running up a mountain or training without the ball. The training regime is the same way we prepared for games before. The big difference is the person transmitting the message.That is the big difference."
Barcelona will play their first La Liga match in a home fixture against Real Sociedad on Sunday.
Editor:Wang Xiaomei |Source: CCTV.com