Watch Video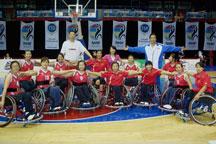 Play Video
We are just about one week away from the start of the 2012 London Paralympic Games as they get going on August 29th. One of the most popular events at the Games is wheelchair basketball and the Chinese women's team is going through some last minute training before heading to the British capital.
In a little more than a weeks' time the Chinese women's wheelchair basketball team will be in London for the Paralympics. So, with little time left to prepare, the squad is going through an intense training camp.
China's women's wheelchair basketball team has a short history. The first Paralympics they participated in was in 2004 in Athens. In Beijing four years ago, the team finished in 7th. And in London, they are looking for better results.The team's head coach feels the squad is very fit, but still need to improve their arm and hand skills.
Xu Yuansheng, coach of China Women's Wheelchair Basketball Team, says, "The wheelchair is like their legs. They not only need to control the wheels, but also the ball. Hence, it's much more difficult than traditional basketball. Their arms and hands are the key to playing well. Every move is conducted by their arms and hands, including stopping and starting."
Chen Qiurong, China Women's Wheelchair Basketball Team, says, "Our hands are capable of performing many actions, including controlling the wheels, dribbling, shooting, as well as steering the chair forwards and backwards."
The girls hands are finely tuned instruments and critical to everything they do on the court. However, the once dainty digits of the ladies do take a beating throughout the often rough and tumble games. This, something Chen jokes about.
Chen Qiurong says, "As girls, we love to be beautiful. But my hands are not as nice as they once were. Whether my hands are pretty or not, our hearts are beautiful and strong as we love this game."
Despite the hard training, Chen and her teammates look forward to the Paralympics, because this game has given new hope to these disabled athletes.
Related stories
Editor:Wang Xiaomei |Source: CCTV.com