Watch Video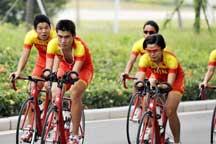 Play Video
China's Paralympic cycling team is in the final preparation phase for the upcoming London Games. China is not considered favorite to win medals in this sport, but the squad is looking to make its mark.
China will send 8 athletes to compete in cycling at the London Paralympics. With a short history, this edition of the Paralympic cycling team is comprised of young riders, who are making their debut at the Games and will contest 5 individual and team events.
Liu Xinyang, China Paralympic Cyclist, says, "We compete as an army. Individual efforts are not the ultimate reason for a win. An individual can't represent the whole team. If the team improves, every individual will improve too."
Most of the cyclists are from Guangdong Province. They hoisted half the gold medals at the 2011 National Para Games. However, they have a mountain to climb at the biggest international stage for paralympians. The new classifications in cycling, which erases differences between similiar disabilities, will be another challenge for all riders.
Li Peng, China Paralympic Cycling Team Coach, says, "They've classified the amputees and brain paralysis into one category. That's to say, a one-legged rider might compete against a brain-paralyzed cyclist with full arms and legs. It's a challenge for the team."
Ruan Jianping, China Paralympic Cyclist"Whatever efforts I make, it will be much harder. My chances of winning remain slim. But my coach has talked with me and helped me to retain my confidence. I'm making my first appearance at the Games and will do my utmost not to let everyone down."
China only won one cycling gold at the 2004 Athens Paralympics, now the team is realistic about its prospects in London: making it to the podium will be considered a success.
Related stories
Editor:Wang Xiaomei |Source: CCTV.com