Watch Video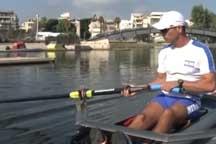 Play Video
With a glittering record of more than 300 Paralympic medals, 113 of them gold, Israel is hoping that the upcoming London Games will help erase the memory of a lackluster performance at the recent Olympic Games.
With only days to go before the start of the Paralympic Games, 40-year-old Reuven Magnagey is up every day at the crack of dawn to say his prayers and eat a light breakfast before training.
At the London Paralympics, Magnagey will compete in the mixed double sculls, a rowing category which was introduced for the first time at the 2008 Beijing Games.
Magnagey athletic career began several years after he was shot during a clash with Palestinian militants during the unrest from 2000 to 2005.
Reuven Magnagey, Rower of Israeli Paralympic Team, says, "My unit was caught in a sort of a… I would say a sort of ambush. 13 of my comrades were killed there but I made it out.
Somehow I have found myself rowing a boat. I don't really know what brought me here, but I've found here a sort of calmness, peace of mind and control over my life."
Although a bullet shattered Magnagey's ankle, he managed to pull through after several complex operations and a long process of rehabilitation.
Roni Bolotin, Head of Israeli Paralympic Committee, says, "We have two fighter-jet pilots in the team for example, and others from special units who were wounded. There's no doubt that their mental and physical abilities assisted them in their sport and in their achievements."
Magnagey is one of 25 Israelis who will represent the Jewish state at the London Paralympics starting on August 29.
Editor:Wang Xiaomei |Source: CCTV.com