Watch Video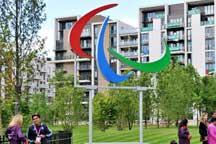 Play Video
Thousands of athletes have flooded into the Paralympic Village as London throws open its doors for a second international sporting event in just four weeks. The athletes' village has seen a number of changes made in the twelve days since the Olympic Games.
The village will welcome more than 4 thousand athletes from 166 different countries and regions and many of them have already moved in. Those in wheelchairs have easy access to all the facilities in the village. Some of the athletes with wheelchairs can also use the expertice at the wheelchair and artificial limb maintenance center.
An international team of technicians are staffing the center. Although they come from a variety of countries, at the games the will work for all the athletes. Among them is Chinese Zhang Xin whose first Paralympic Games was back in 2004.
Zhang Xin, Technician from China, says, "Tech "The athletes can come here at any time when they feel uncomfortable. And we can find solutions for their problems. Sometimes, the athletes' wheelchairs are totally broken, but we still try our best to fix them and make sure their daily life is not affected."
Editor:Wang Xiaomei |Source: CCTV.com