Watch Video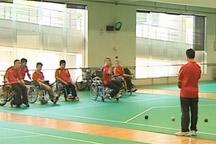 Play Video
One event that can be assured of seeing competitors having a ball playing is that of boccia. It is one of the sports unique to the Paralympics, and with it's simple rules and equipment, it has quickly become a hit among China's Paralympic team.
With the London Paralympics just around corner, China's national boccia team has finished its last phase of preparation in Guangzhou. With serious referees, a passionate audience, and Paralympians in action, team leaders were hoping to simulate the environment of Paralympic competition.
Zhang Hong, Leader of Chinese National Boccia Team, said, "For most of the time during our training, there was only interaction between the athletes and their coaches. In our pre-game psychological consultation, some of our athletes said, 'Why not let some audience stand behind me, so I can work on my nerves?' Therefore, we organized several matches like this, hoping that our athletes can get a taste of real competition before London."
Boccia is often played by athletes struck with cerebral palsy, or other conditions affecting motor skills.All events are mixed gender and will see singles, doubles and team play.
The game has relatively simple rules. Throw one of your three balls closer to the white target ball than your opponent, and you score a point. The competitors in London will be assigned to one of four classes, based on their abilities.
Boccia became a Paralympic sport in 1984. However, China did not join the competition until Beijing in 2008. The team's head coach says the impact the game has made on his athletes is evident.
Tian Jianan, Coach of Chinese National Boccia Team, said, "The most notable change is psychological. They are more confident now. Before coming to the national team, they tended to speak very little. But now with athletes like themselves, they are much more cheerful. "
Boccia is scheduled to be held in the ExCeL Exhibition Center from September 2nd to 8th. China will send 5 Paralympians to compete in four events.
Editor:Wang Chuhan |Source: CCTV.com