Watch Video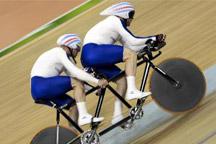 Play Video
China's Paralympic cycling team is making final preparations for the London Games. China is not considered a favorite to win many if any medals in the sport, but the squad is looking to make its mark.
The team had a final training session at the London Cycling Velodrome where all the track cycling events will take place.
China will have 8 athletes competing in 17 events at the Paralympics. Much of the Chinese Paralympic cycling team is comprised of young riders, who are making their debuts at the games. But there are also veteran cyclists, who have had success at various international events. The team though remains realistic about their chances in London.
Li Peng, Coach of China Paralympic Cycling Team, said, "What we need to do now is to adjust our mindset and be free of any mental burden. If we perform to the best of our ability, I think we will be fine."
Chinese cyclists will compete in the C-class events, which is consists of amputee athletes, and competitors who have suffered brain injuries. One of the medal contenders in the 1-kilometer time trial is Liu Xinyang, who won 3 gold medals at the Asian Para Games two years ago.
Liu Xinyang, Chinese Paralympic Cyclist, said, "My teammates and I haven't competed in more than a year at any big events. We are not sure about ourselves. I will do my utmost to ride as fast as I can."
The young team will face a stiff challenge at the biggest international stage for disabled athletes. And the track is another challenge for the riders.
Li Peng said, "First, the training venue at home is humid, second, the track features shorter turns. We've found the turns are very long for this track, which the riders are not used to."
China did not win any cycling medals at the 2008 Beijing Games, and will look to grab their first medal since capturing 1 gold at the Athens Paralympics.
Related stories
Editor:Wang Chuhan |Source: CCTV.com