Watch Video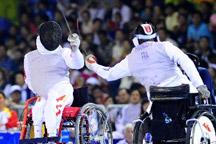 Play Video
One of China's top medal prospects at this year's Paralympics is the fencing team. The squad has been successful at past games, and expects to continue that trend.
China's Paralympic fencing squad continued their training since landing in London. The team comprises of 9 fencers who will compete in 10 events. The team is composed of much of the same members of the Beijing Paralympic team.
They are considered strong in men's foil, epee and women's sabre and foil events. China landed 6 gold medals in Beijing 4 years ago, and expects more success at these games.
Hu Daoliang, who won two gold medals four years ago, and is leading the men's squad. However, he has battled constant injuries recently, which is one of the biggest worries for the team.
Fan Hong, Team Leader of China Paralympic Fencing Team, said, "Hu Daoliang is a Beijing Paralympic champion. Over the past year, he had injuries on his left arm, which holds the sword. There has been a fluid build-up in his arm. We've designed a special training and recovery program for him. He is optimistic, but he has three events to compete. Therefore, we are worried, and hope he is healthy enough for each competition."
One of the events that China wants to win is the men's team foil. The Chinese Paralympic fencers triumphed both at the Athens and Beijing Games. Hu's sluggish form and a new member to the team is generating uncertainty for China.
Fan Hong said, "There is new member to the team. This is the first time he is competing at such a big event. He didn't compete at the World Cup or World Championships. We are a bit worried about his debut with the team. But he has been under intense training and preparation. The coaching staff adjusted the training program according to his fencing style. I believe they are now in full swing."
Over on the women's side, China has had success in various events over the years. But in Beijing, the team lost to Hong Kong in the team events, and this time in London, the female fencers hope to break the jinx. Apart from the team events, the female fencers will compete in the sabre and foil individual events. And they are all contenders for a gold medal.
Related stories
Editor:Wang Chuhan |Source: CCTV.com