Watch Video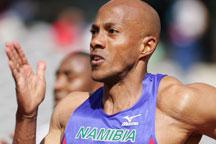 Play Video
While Oscar Pistorius misses out on defending his 100 meter title at the Paralympics, he was far more gracious in defeat than after being beaten in the 200. Pistorius courted controversy after he accused some of his fellow athletes of gaining an unfair height advantage by using a different kind of running blade. Despite that, the South African can at least count on the support of one African athletics legend.
He's one of the icons of African athletic, four time Olympic silver medalist Frankie Fredericks is upset at Africa's performance during the Olympics, and he's calling for a change in direction.
Frankie Fredericks, 4-time silver Olympic medalist, said,"One African athlete who has achieved is Oscar Pistorius. After becoming the first track and field amputee to race in the Olympics, he's now won relay gold in the Paralympics. Despite the blade runners recent outburst over competitors blades. Frankie is quick to defend the South African."
The records have been falling all around the Olympic Park during the Paralympics, but it was the record breaking performance by Kenya's David Rudisha that is Frankie's moment of the games so far.
And as for his view on Usain Bolt, well Frankie could not help but have a little dig.
Frankie Fredericks is here in London to back the "World academy of sports" scheme that allows athletes to study while also giving them the chance to compete at the highest level. One would think that such a scheme would do wonders for athletes from poorer countries, something he is keen to address. Dan Williams, CCTV News at the London Paralympics.
Editor:Qin Xue |Source: CCTV.com