Watch Video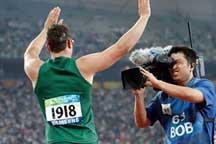 Play Video
With record crowds and large TV audiences, the London 2012 Paralympics have proved a huge hit in Britain. But attracting sponsors and TV coverage to rival the Olympics remains a challenge.
With more than 2 and a half million tickets sold, and packed arenas day and night, the Paralympics have captivated British audiences just as the Olympic Games did.
Britain's Paralympic broadcaster Channel 4 has won plaudits for its 400 hours of coverage. It says the decision to show the Games has paid dividends.
Dan Brooke, Chief Marketing and Communications Officer, Channel 4, said, "The opening ceremony gave us our highest audience for ten years, and the ratings for the first half of the Games, almost every single night, have been higher than for seven years."
The International Paralympic Committee is in a jubilant mood. Its website received more hits on the opening day of London 2012 than it did throughout the entire Beijing Games, and it says the profile of disability sports has never been higher.
Alexis Schaffer, IPC Commercial and Marketing Director, said, "I think when you look at all the numbers, the London 2012 Paralympic Games have taken it by far beyond all expectations that we had. In Beijing we already had an accumulated audience of four billion people, and we think we can surpass it. We think we will by far surpass the 1800 hours of TV coverage that we had in Beijing."
Nonetheless, the commercial profile, and media interest, around the Paralympics remain far lower than for the Olympics. The cavernous media centres housing journalists in the Olympic park have been relatively deserted. And in the US there is no live TV coverage of any of the events.
Alexis Schaffer, said, "The situation in the United States is certainly not what we would love to have, but there are many other Olympic sports that also struggle in the United States, because it's a very particular market.".
The challenge for organisers is to ensure future Paralympics attract even more interest - and more money - than London 2012, and for broadcasters and sponsors to be brought on board well in advance.
Michael Payne, Former IOC Marketing Director, said, "The next challenge for Sochi and Rio is to ensure that with the broadcast partners and the commercial partners and the media, that it is not a surprise: that they actually understand the true power of the asset of what the Paralympics represents."
While there's some way to go before the fame of Oscar Pistorius is the norm rather than the exception, London 2012 has shown that the Paralympics can capture the public imagination. Rio 2016 will show whether that momentum can be maintained.
Editor:Zhang Pengfei |Source: CCTV.com