Watch Video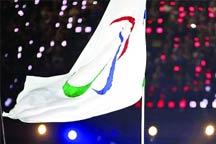 Play Video
Almost a month after the arrival of the Olympic Flag in Rio de Janeiro, the Paralympic Flag touched down on Brazilian soil on Monday.
Brazil's performance at the Games surpassed predictions, the nation's athletes finishing seventh in the overall standings. Rio will host the 2016 Games and expectations are high after London put on one of the greatest ever double acts of all time.
The Paralympic Flag has arrived in the next host city carried by Rio Mayor, Eduardo Paes and the Brazilian Paralympic delegation. On Monday, Paes was quick to assure the 2016 Paralympic Games will be a stepping stone to change perceptions and the daily reality of those with special needs in Brazil.
Eduardo Paes, Rio de Janeiro Mayor, said, "The Paralympics should inspire people to hold authorities accountable, to hold everyone accountable, including the government obviously, making public and private venues to provide accessibility."
Editor:Wang Chuhan |Source: CCTV.com