Watch Video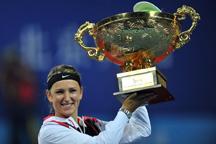 Play Video
In women's side, the event witnessed a new female champion this year as Victoria Azarenka easily cruised past the world top two contest by smashing Maria Sharapova in straight sets.
World number one Azarenka enjoyed a decent start with 4-0 by breaking Sharapova' s first and third serve in the opening set before the second seed closed it on 3-5 as the answered another break to take the set at 6-3.
With one set in hand, Azarenka started to call the shots in the second to storm to a 5-1 lead, while the Russian sweet found it hard to get the match back as Azarenka sealed the victory at 6-1. Standing on the top in her 4th appearance at Beijing, Azarenka grabbed her fifth title of the season, which is her career first more-than-three titles in a season and the 23-year-old Belorussian enjoyed a 7-5 advantage against Sharapova.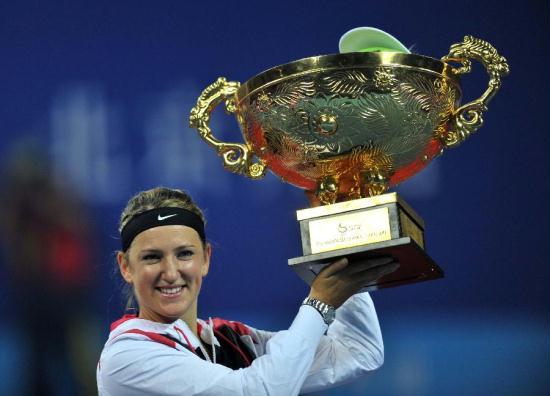 Victoria Azarenka of Belarus holds up the trophy during the victory ceremony for the women's singles final against Maria Sharapova of Russia at the 2012 China Open tennis tournament held in Beijing, capital of China, on Oct. 7, 2012. Azarenka won 2-0 and claimed the title. (Xinhua/Li Wen)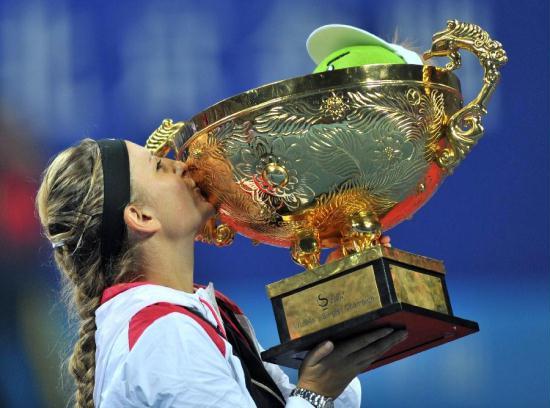 Victoria Azarenka of Belarus kisses the trophy during the victory ceremony for the women's singles final against Maria Sharapova of Russia at the 2012 China Open tennis tournament held in Beijing, capital of China, on Oct. 7, 2012. Azarenka won 2-0 and claimed the title. (Xinhua/Li Wen)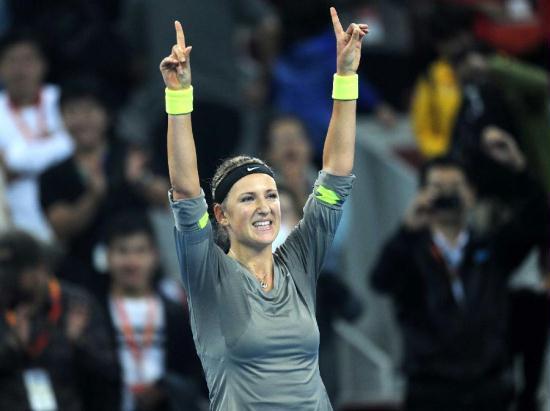 Victoria Azarenka celebrates after winning the women's singles final against Maria Sharapova of Russia at the 2012 China Open tennis tournament held in Beijing, capital of China, on Oct. 7, 2012. Azarenka won 2-0 and claimed the title. (Xinhua/Gong Lei)
Related stories
Editor:Wang Shuo |Source: CCTV.com