Watch Video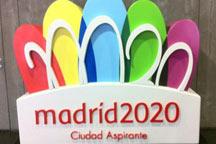 Play Video
Despite being in the midst of a deep financial crisis, Spain's capital is sticking with its bid to host the 2020 Olympics. Madrid is already home to an array of world-class sports facilities, which many Spaniards hope could finally swing the International Olympic Committee's final decision in their favour.
Could it be third time lucky for Madrid? Twice it's recently bid to host the Olympics, twice it's been rejected. Now, it's down to the final three to host the 2020 Games, facing stiff competition from Istanbul and Tokyo. But considering the capital's financial situation- 6.5 billion euros in debt, the odds are stacked against it.
Jesus Minguez, a journalist, said, "If between now and March next year-when the IOC will visit Spain-the economic situation has not improved, and the issue of rescuing Spain's economy is still not resolved within Europe, I think it's going to be complicated, very complicated."
And yet there's one factor that could swing it in Madrid's favour: most of the sporting infrastructure needed for the Games is already in place.The city's sports complex can be used for volleyball, the iconic Santiago Bernabéu Stadium used by Real Madrid is ready for football, and the city's arenas can be used for basketball. Madrid's Olympic organisers would only have to find 1.25 billion euros to host the games-A fraction of the 10 billion euros invested by London for the 2012 Olympics.
Alejandro Blanco, president of Spanish Olympic Committee, said, "Every city that hosts the games attracts foreign investment, its image improves and is recognised all over the word. People are happier, there's no other event like it, in terms of rallying people, and bringing benefits to the country's reputation and economy."
Despite its financial situation, Madrid has everything to play for-And if it gets the nod and wins the vote, then people here - who overwhelmingly support the bid - are hoping for an economic boost.
"I think it'll be a good thing for Madrid to host the Olympics, because it could kick-start the economy of Madrid and the whole country."
"It's true that a huge amount of money would be spent in publicity and security, but it's also an investment because people would come here, spend their money and discover Madrid."
The final decision will be made in September 2013. And if Madrid is chosen to host the 2020 Games, it could give a serious boost to both the country's stalling economy and morale.
Editor:Wang Xiaomei |Source: CCTV.com