Watch Video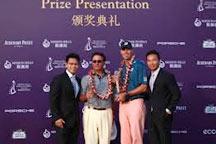 Play Video
The 2012 World Celebrity Pro-Am at Mission Hills concluded in Haikou on Sunday in south China's Hainan Island. Celebrities and their professional partners put on an entertaining show. The pairing of Matt Kuchar and Andy Garcia were eventual winners.
Teamming up with China's golf ace Liang Wenchong, former NBA star Yao Ming began to pick up his pace in golf after three-day match-play. Despite dropping many shots and registered numerous bogeys, Yao won applause from spectators and said he enjoyed a lot of fun.
Liang finished a third place recording 79 points. Overall, Liang carded four birdies and an eagle in the final round 18-time Olympic champion Michael Phelps completed his debut in golf.
Phelps finally scored 80 points in total to stay in the 10th place on the Celebrity standings. Andy Garcia finished first among all celebrities after finishing 92 points overall. Matt Kuchar, the world no. 13, had a strong bogeyless final round, sinking 7 birdies to eventually score 84 to win the tournament.
Editor:Wang Xiaomei |Source: CCTV.com