Watch Video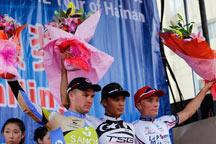 Play Video
The 2012 Tour of Hainan continued on Sunday on the southern China island. Mohammad Saufi Mat-Senan from Terng-ganu Cycling Team became the first rider to cross the finish line. The second stage ran from Wanning to Wenchang with the distance of 145.6km.
China's Hengxiang Cycling Team executed a strategy to help their key racer Wang Meiyin. Winning the climbing classification, Wang snatched 3 points and kept the polka dot jersey as "King of the Mountains".
Wang chose to stay in the peloton to preserve energy, while teammate Li Fuyu blasted off to win two sprint classifications. In the final phase, Malaysian Mohammad Saufi Mat-Senan staged an energetic sprint and took the stage victory in 3 hours 35 minutes and 14 seconds. Alexender Serebryakov from Team Type 1-Sanofi won the yellow jersey.
Editor:Wang Xiaomei |Source: CCTV.com